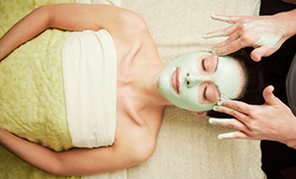 Facial & Make Up
Teen Facial
Facial specifically for teens that helps clear acne and promotes clear healthy skin.
Refreshing Herbal Facial
Facial with herbal formula recipe that will leave you feeling refreshed
Organic Facial
Facial specialists with a natural line of fantastic, holistic facial formulas for a healthy complexion
Deep Cleansing
This deep pore cleansing treatment uses natural fruit enzymes to clear the skin of cellular buildup that causes blackheads and breakouts
Gold Facial
Experience this 18 Carat Gold Facial is excellent for improving all types of skin. It is beneficial for lines, oily and dehydrated skin. For best results you would need to have the gold facial once a month for 6 months.
Seaweed Facial
When your skin is stressed, look no further than a seaweed facial. This purifying, enriching facial treatment is the stuff of your skin's dreams.
Pearl Facial
Experience the ancient and luxurious beauty ritual that has been practiced over the last 4000 years by the Empresses of the royal court of China. Pearl has been used to beautify the skin, allowing it to be nourished and rejuvenated. This facial is ideal for those with an oily skin. It helps remove tan and brightens the skin. Deep cleansing is done next, to refine the skin.
Four Layer Facial
Layer upon layer of fresh European seaweed is applied to the face. As it infuses the skin, it works to revive, tone, hydrate, purify and firm. The four layer treatment includes a deep cleansing and massage, a cooling seaweed mask and a mineral-rich thermal mask.
Skin Lighting Facial
Facial treatment to restore and protect the skin's acid mantle, lighten and brighten the complexion, exfoliate dead skin cells for a smoother, less-wrinkled appearance, help break down impurities, whilst bringing moisture, clarity and vitality to the skin.
Acne Treatment
Microdermabrasion
Look and feel young
Reduce fine lines and wrinkles
Disappear or minimize dark spots
Helps reduce scars
Get rid of the flaky skin with just one session
Make Up
Makeup uses the face as a canvas. Using makeup properly to create illusions can give the wearer the look she desires.